bioterm > bruciatutto stoves - multifuel biomass stoves
BRUCIATUTTO LINE: WASTE BURNING STOVES AND THERMOSTOVES
Our stoves and thermostoves represent an innovation among heating appliances. You can feed them using corn and corn flour, wheat and wheat straw, beans, pellet (an organic fuel made from sawdust, bark and deadwood). But not only this. Bruciatutto line appliances can burn: olive husks, grape seeds, weed, eucalyptus, poppy, sunflowers, poplar, black locust, wood chip, cardoon plants, sorghum, cole, soya, barley and all types of cereals, hemp, cotton, agricultural waste, pin nut and cacao shells, coffe scrap, peanut shells, citrus dry skin and many other organic dry waste materials... Easy to use, very easy to clean, uniques in their funtionality and convenience, these automatic stoves are equipped with automatic ignition and remote-control.
Bioterm chooses the best heating appliances from manufacturers on the market (fireplaces, stoves, thermostoves, thermodomestic), taking care of checking the quality of every component, the correct construction, the perfect assemble. A particular attention, then, is dedicated to the control of general parameters, which have to be perfectly in line.
Some of our heaters can also burn in an optimal way beans, broad beans, chestnuts, peach stones, shavings, sawdust, chip, burs, acorns, carobs... we sell most of these fuels in different size packs: 15/ 20/ 800/ 1000 kilos bags and in bulk, by using special camions with air-valve or screw conveyors unloading.
Bruciatutto stoves and thermostoves are ecological, produce a constant heat and minimal air pollution with the lowest costs, thanks to the use of pellet, derived only from waste wood. Bruciatutto stoves and thermostoves have a big advantage: they can adjust the fuel thanks to a new automatic feeding system, which drops a few pellet or other organic biomasses at a time into the combustion chamber, supplying the combustion and providing the right temperature control.
Every model has an electronic control unit and a thermostat, which brings the room up to the exact temperature and turn it off when no heat is required. They are easy to install because they don't need vent or a flue on the roof for working. The exhaust gases are vented by way of a small flue pipe (only 8 cm in diameter).

Bruciatutto stoves and thermostove are caracterized by a preciuos design which fits both traditional and modern homes. There are five models available:
MINI, the suitable one for small units AIR MAX for big units

FORNO PRONTO, for heating and IDRO 20, a water stove
cooking at the same time
IDRO 18 INCASSO, an only 250 mm depth water stove.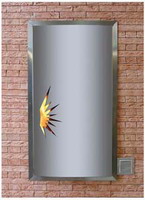 Platform and covers.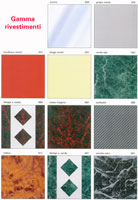 The functions of these stoves are very easy to select through a control panel or a remote-control.
Pellet drops into the burner by a feeder device which govern the pellet feed rate.
Thanks to their vent, these stoves have an attractive and vivid flame.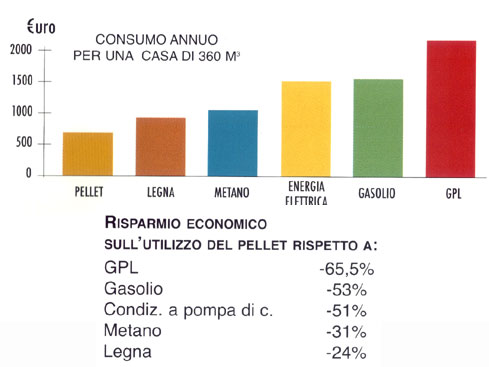 Pellet is an organic fuel obtained from wood waste, such as chips or sawdust. These materials are compressed, with no chemical products in addiction. This cleaner fuel produces low exaust smoke emission rate and enables you to save even 65% if compared to Gpl or gas oil.
Pellet has an high heat yield: even if unbelievable, one kilo of pellet can heat like 3 kilos of wood.
Pellet is convenient: saves space, gives more heat.
Consumptions which have been declared can range according to dimensions and to the type of pellet.